Meet the Trustees
In addition to the individuals listed below, per state statute, the Superintendent of Public Instruction, or his or her chief assistant for liaison with higher education when designated to serve in his or her place, serves as an ex-officio member of the board.

Former members of the Board of Trustees are listed here.
J. Phil Gilbert, Chair
J. Phil Gilbert, a lifelong resident of Carbondale, was appointed to the SIU Board of Trustees by Gov. Bruce Rauner on Feb. 27, 2015. Gilbert served as a member of the Illinois State Board of Elections and was chairman from 1981 to 1983 and vice chairman from 1983 to 1985. Former Gov. James Thompson appointed Gilbert to the Election Reform Commission in 1984 and he also served on the National Council on Governmental Ethics Laws from 1983 to 1987.
Gilbert was a partner in the firm of Gilbert, Kimmel, Huffman & Prosser, Ltd. from 1983 to 1988 when he was appointed by the Illinois Supreme Court as a circuit judge in the First Judicial Circuit and served as a state court judge until his appointment to the federal bench.  He was appointed United States district judge for the Southern District of Illinois in September 1992 by President George H. W. Bush.  He served as chief judge of the Southern District of Illinois from October 1993 to September 2000.  While on the federal bench, Gilbert served a six-year term on the Judicial Conference Committee on Criminal Law.
In March 2014, Gilbert assumed Senior Status but continues his public service by rendering substantial service as a senior judge.
Among his many honors, Gilbert received the Silver Gavel Award for his dedication to justice from the criminal defense bars of the Southern District of Illinois and the Eastern District of Missouri in 2008; the SIU School of Law Founders' Medal for distinguished service to the law school in 2009; and Loyola School of Law's Distinguished Jurist Award in 2010.
He is a graduate of the University of Illinois and Loyola University of Chicago School of Law in 1974. He and his wife, Gail, have two children, Jennifer and John, and two grandchildren.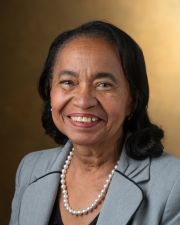 Shirley Portwood, Vice-Chair
Dr. Shirley J. Portwood, of Godfrey, was appointed to the SIU Board of Trustees in May 2013.  She is a professor emeritus at SIU Edwardsville, where she taught in the Department of Historical Studies for 30 years. She previously taught at St. Louis Community College at Forest Park. 
Dr. Portwood holds bachelor's and master's degrees in history from SIU Edwardsville, and she earned a master's degree and a Ph.D. in history from Washington University in St. Louis.
She has served as a member of the Board of Directors of the Illinois Historic Preservation Agency since 2009, and was recently appointed to the Illinois Amistad Commission. Dr. Portwood also serves on the Editorial Board of the Journal of the Illinois State Historical Society. She previously served on the Illinois Abraham Lincoln Bicentennial Commission; on the Board of Directors of the Abraham Lincoln Association; and on the boards of directors of various professional journals.
Much of Dr. Portwood's extensive research and publication in professional journals has focused on Illinois African American history. She has participated in numerous professional conferences in the U.S. and in other countries.
Dr. Portwood and her husband, Harry, have five children, six grandchildren, and two great-grandchildren.
Joel W. Sambursky, Board Secretary
Joel W. Sambursky, of Carbondale, was appointed to the SIU Board of Trustees in September 2013.  Sambursky founded Liberty Wealth Management in 2012 during his fifth year as an LPL Financial Advisor.  Before becoming an LPL Financial Advisor, Sambursky became the youngest Executive Director in the history of the Carbondale Chamber of Commerce while completing his Master's degree in Business Administration from Southern Illinois University in 2007.  Sambursky received his Bachelor's degree in Finance from SIU Carbondale in 2005.
Teamwork, leadership, and competition are important qualities in Sambursky's life.  As Southern Illinois University's quarterback from 2002 to 2005, he led the Salukis to three straight conference championships and NCAA National playoff appearances, played in an unprecedented 49 consecutive games, became the first Saluki to be voted the "Toughest Saluki" for four straight years by his teammates, and set many Saluki quarterback records.  The Gateway Football Conference awarded Sambursky the Freshman of the Year honor in 2002, and the Player of the Year award in 2004.  In February 2012, Sambursky became a first-ballot inductee into the Saluki Hall of Fame. 
Sambursky was also recognized by the Gateway Football Conference for his achievements in the classroom, becoming a member of the All-Gateway Conference Academic Team in 2003, 2004, and 2005.  Sambursky was also named an Academic All-Star by I-AA Athletics Directors in 2005.
When he is not in the office, Sambursky, an avid outdoorsman, loves hunting, running, hiking, and any opportunity to get outside and enjoy the world's beauty.  Sambursky serves the southern Illinois community with his involvement on the board of directors for the Carbondale Community Arts, and is the past president of the board of directors for the Carbondale Chamber of Commerce.  Joel is married to Samantha, who was a four-year letter winner for the Saluki Women's Golf Program.  Joel and Samantha have four children, Laney, Jase, Josephine and Theodore.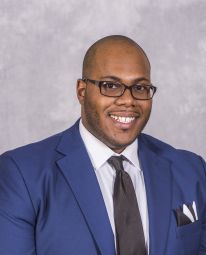 Brione Lockett
Brione Lockett was elected in March 2018 by the students of SIU Carbondale to serve on the SIU Board of Trustees. His term ends June 30, 2019.
The Arlington Heights native completed his bachelor's degree in history and Africana Studies at SIUC in 2015 and is currently in the third year of a joint concurrent program to earn his Master of Public Health in community health education and doctorate in education with concentration in health education. He's a 2010 graduate of Rolling Meadows High School in Rolling Meadows.
Lockett serves as a teaching assistant in Africana Studies and is a summer tutor for Saluki Athletics. He is president of the Black Graduate Student Association, treasurer of Graduate Assistants United and president of Eta Sigma Gamma, the national healthcare honorary.
He was selected as the 2015 Alexander Lane Intern and served on the House Democratic Issues/Communication staff for the Illinois House of Representatives that year. He also earned the Vince Demuzio Internship in 2014 during which he handled projects to address the needs of constituents for government agency assistance through the Marion office of state Rep. John Bradley, D-Marion.
During his time in Carbondale, he's had the opportunity to speak regarding student issues in a variety of venues, including addressing members of the Illinois legislature during the state's two-year budget impasse about student debt and student welfare. He has also served with campaigns established to improve interactions between police and people with mental health needs.
Lockett enjoys reading, traveling and giving back to the community. His goal is to work for an organization such as the Centers for Disease Control and Prevention to implement programs to improve the quality of life for all individuals.
Amy Sholar
Amy Sholar, an Alton native and lifelong resident of Madison County, was appointed to the SIU Board of Trustees by Gov. Bruce Rauner on Feb. 27, 2015.  A licensed attorney with her office located in Alton, Sholar earned a bachelor of science degree in business administration from SIU Edwardsville. She earned her law degree from St. Louis University in 2001.
During law school, Sholar worked for the Madison County State's Attorney's Office. After earning her law degree, she worked for the City of Alton handling real estate acquisition, zoning matters and was actively involved in the Weed and Seed Program, a neighborhood revitalization movement.
Sholar opened her private practice in 2004, handling criminal defense and family litigation. She has served as Guardian Ad Litem in countless cases representing minor children who are either victims of abuse and neglect or the subject of custody trials.
Sholar is a member of the Board of Greater Alton Community Development Corporation and the Board of Governors for the Illinois Lincoln Series Excellence in Public Service. She has served as secretary and president of the Alton Wood-River Bar Association and is a member of the Madison County Bar Association and Illinois State Bar Association. She is a recipient of the 2012 Women of Distinction Award in her local community.
She has two college-age children, Sadie and Joseph.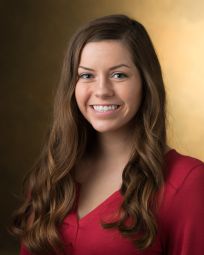 Molly Smith
Molly Smith was elected in April 2018 by the students of SIU Edwardsville to serve on the SIU Board of Trustees. Her term ends June 30, 2019.
Smith expects to complete her bachelor's degree in biological sciences in May 2019. She will graduate with minors in chemistry, psychology and forensic science, as well. She is a 2016 graduate of Frankfort Community High School in West Frankfort. After graduation, Smith plans to continue her education by attending medical school and then serve the people of Illinois as a physician.
Smith has been involved in a number of service organizations and leadership activities during her time at Edwardsville. She recently served as a Student Government senator, representing the College of Arts and Sciences – science and math. She is an active member of Alpha Sigma Tau, contributing to the sorority's philanthropic efforts, and earning recognition as the 2018 Emerging Leader of the Year for the campus' Beta Eta chapter.
To enhance her leadership abilities, Smith participates in the university's Student Leadership Development Program. She is also involved in the Pre-med Club, the Biology Club and the Psychology Club.
Smith volunteers with the Campus Kitchen Project, an initiative that provides meals and information to community members utilizing food from area cafeterias, grocery stores and restaurants. She also donates her time bi-weekly in the recreational therapy department of the Shriner's Hospital for Children and spent her 2018 spring break in Haiti on a medical mission to provide care to underserved communities.
In addition, Smith is involved in research as an Undergraduate Research and Creative Activities Program assistant for biological and environmental sciences and teaches chemistry workshops. This fall she will serve as a Cougar guide at the SIUE Experience for incoming students. In addition to her extensive involvement in campus and community life, she enjoys creating crafts and shopping.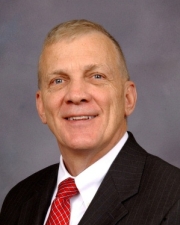 Randal Thomas
Major General (ret.) Randal E. Thomas, of Springfield, was appointed to the SIU Board of Trustees in May 2013. He served from 2003 to 2007 as the 36th Adjutant General of Illinois, the highest National Guard post in the state.  He also served on the Illinois Executive Ethics Commission from 2008 to 2011.
A native of Glen Carbon, he is a graduate of Collinsville High School. Thomas earned a bachelor's degree in English from SIU Edwardsville in 1973, a master's degree in educational technology from SIU Edwardsville in 1980, and a master's degree in strategic studies from the U.S. Army War College in 2000. He and his wife Joanne met and were married at SIUE.
Thomas received his commission as an Infantry Officer in 1967, while serving in the Army from 1966 to 1969.  He was awarded a Purple Heart and Bronze Star for valor for his 1968-1969 combat service in Vietnam with the Army Special Forces.
Prior to his appointment as Adjutant General in 2003, Thomas spent 30 years as an English teacher, librarian and media director at Hillsboro High School.
He was inducted into the U.S. Army Infantry OCS Hall of Fame in 2006 and the SIU Edwardsville Alumni Hall of Fame in 2011. He is a member of the SIU Edwardsville Alumni Association, the U.S. Army War College Alumni Association, Veterans of Foreign Wars, National Guard Association of US, and the National Guard Association of Illinois.