Meet the Trustees
In addition to the individuals listed below, per state statute, the Superintendent of Public Instruction, or his or her chief assistant for liaison with higher education when designated to serve in his or her place, serves as an ex-officio member of the board.

Former members of the Board of Trustees are listed here.
J. Phil Gilbert, Chair
J. Phil Gilbert, a lifelong resident of Carbondale, was appointed to the SIU Board of Trustees by Gov. Bruce Rauner on Feb. 27, 2015. Gilbert served as a member of the Illinois State Board of Elections and was chairman from 1981 to 1983 and vice chairman from 1983 to 1985. Former Gov. James Thompson appointed Gilbert to the Election Reform Commission in 1984 and he also served on the National Council on Governmental Ethics Laws from 1983 to 1987.
Gilbert was a partner in the firm of Gilbert, Kimmel, Huffman & Prosser, Ltd. from 1983 to 1988 when he was appointed by the Illinois Supreme Court as a circuit judge in the First Judicial Circuit and served as a state court judge until his appointment to the federal bench.  He was appointed United States district judge for the Southern District of Illinois in September 1992 by President George H. W. Bush.  He served as chief judge of the Southern District of Illinois from October 1993 to September 2000.  While on the federal bench, Gilbert served a six-year term on the Judicial Conference Committee on Criminal Law.
In March 2014, Gilbert assumed Senior Status but continues his public service by rendering substantial service as a senior judge.
Among his many honors, Gilbert received the Silver Gavel Award for his dedication to justice from the criminal defense bars of the Southern District of Illinois and the Eastern District of Missouri in 2008; the SIU School of Law Founders' Medal for distinguished service to the law school in 2009; and Loyola School of Law's Distinguished Jurist Award in 2010.
He is a graduate of the University of Illinois and Loyola University of Chicago School of Law in 1974. He and his wife, Gail, have two children, Jennifer and John, and two grandchildren.
Ed Hightower, Vice Chair
Ed Hightower was appointed to the SIU Board of Trustees by Gov. J.B. Pritzker on March 22, 2019. He previously served from 2001 to 2014. He also served on the Lewis and Clark Community College Board of Trustees for more than 26 years.
In 2015, Dr. Hightower retired as superintendent of the Edwardsville School District 7. In the 19 years he led the district, it grew from 5,000 students to more than 7,000 students and became one of the top districts in the state, with remarkable accomplishments in academics, athletics and in the performing arts.
Supervising more than $160 million in school construction during his tenure, Dr. Hightower raised millions of dollars from private sources to build a wrestling center and aquatic center with an Olympic-sized pool as well as funding computer upgrades through the Technology in the 21st Century Classroom Initiative.
He also was an NCAA Basketball Referee for 36 years, officiating 12 Final Four Championships. Hightower has been named the Illinois Principal of the Year and Naismith College Official of the Year, received the National Distinguished Principals Award and has been inducted into the Illinois Basketball Coaches Hall of Fame and St. Louis Sports Hall of Fame.
The Edwardsville resident received his bachelor's, master's and specialist degrees from Southern Illinois University Edwardsville and a doctorate in Education Administration from St. Louis University.
Roger Tedrick, Secretary
Roger B. Tedrick was appointed to the SIU Board of Trustees by Gov. J.B. Pritzker on March 22, 2019. He was originally appointed to the Board in 2004 and is a former member of both the SIU Alumni Association and SIU Foundation Boards.
He is president of the Tedrick Group Risk Management Solutions, a risk management and commercial insurance firm based in Mount Vernon. He founded the firm with his wife, Sally, in 1984.
Mr. Tedrick was born in Vandalia but spent much of his childhood in Carbondale. He attended University High School and graduated from SIU Carbondale in 1970 with a bachelor's degree in political science.
Active at SIU, he co-chaired the Undergraduate Academics Committee for Southern at 150: Building Excellence Through Commitment, SIU Carbondale's long-range plan. He has also represented alumni and friends of the university on many searches for the Carbondale campus.
Mr. Tedrick is past president of the Jefferson County Development Corporation and a partner with Illinois Minerals LLC and Illinois Methane, LLC. He is a Board member of Intersect Illinois, an economic development organization.
Mr. Tedrick is committed to seeing all campuses within the SIU system excel. He says SIU Edwardsville is poised to grow with the Metro East area as it expands and believes the SIU School of Medicine is critical to the future of rural health care in Illinois.
He lives in Mount Vernon with his wife. They have two grown daughters, Lori and Sarah, and five grandchildren.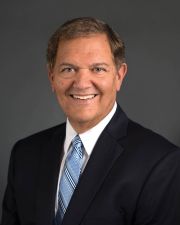 Edgar Curtis
Edgar Curtis has served as president and chief executive officer of Memorial Health System since January 2008. He provides leadership for the strategic direction of the health system which delivers comprehensive health services to the central Illinois region. Curtis began in 1975 as a registered nurse and has served in a variety of administrative positions. Curtis is a Fellow of the American College of Healthcare Executives and past chair of the Illinois Health and Hospital Association Board. He serves on the board of the BJC Collaborative, the American Hospital Association's Regional Policy board, and is Vice-Chair of the Sangamon County Economic Development Commission. He previously served on the Illinois Board of Higher Education's Commission on the Future of the Workforce, and the Advisory Board of the University of Illinois Chicago's College of Nursing. Curtis is past-chair of the boards of the Springfield Urban League, United Way of Central Illinois and Central Illinois Foodbank. He has been named the Grassroots Champion by the AHA and awarded the Order of Lincoln by The Lincoln Academy of Illinois. The Springfield resident received an honorary Doctor of Humane Letters and his Master of Business Administration from the University of Illinois at Urbana-Champaign and his Bachelor of Science in Nursing from Southern Illinois University at Edwardsville, and was inducted in to the School of Nursing Hall of Fame.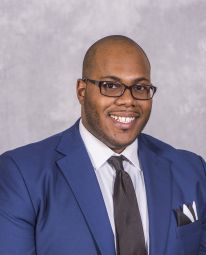 Brione Lockett
Brione Lockett was elected in March 2018 by the students of SIU Carbondale to serve on the SIU Board of Trustees. He was re-elected in 2019. His term ends June 30, 2020.
The Arlington Heights native completed his bachelor's degree in history and Africana Studies at SIUC in 2015 and is currently in the third year of a joint concurrent program to earn his Master of Public Health in community health education and doctorate in education with concentration in health education. He's a 2010 graduate of Rolling Meadows High School in Rolling Meadows.
Lockett serves as a teaching assistant in Africana Studies and is a summer tutor for Saluki Athletics. He is president of the Black Graduate Student Association, treasurer of Graduate Assistants United and president of Eta Sigma Gamma, the national healthcare honorary.
He was selected as the 2015 Alexander Lane Intern and served on the House Democratic Issues/Communication staff for the Illinois House of Representatives that year. He also earned the Vince Demuzio Internship in 2014 during which he handled projects to address the needs of constituents for government agency assistance through the Marion office of state Rep. John Bradley, D-Marion.
During his time in Carbondale, he's had the opportunity to speak regarding student issues in a variety of venues, including addressing members of the Illinois legislature during the state's two-year budget impasse about student debt and student welfare. He has also served with campaigns established to improve interactions between police and people with mental health needs.
Lockett enjoys reading, traveling and giving back to the community. His goal is to work for an organization such as the Centers for Disease Control and Prevention to implement programs to improve the quality of life for all individuals.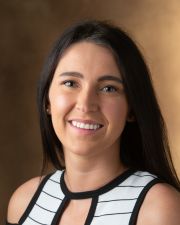 Mackenzie Rogers
Mackenzie Rogers was elected by the students of SIU Edwardsville to serve on the SIU Board of Trustees. Her term begins July 1, 2019.
A 2016 graduate from Marshall High School, Rogers is completing her senior year at SIUE with a major in Psychology and minors in Pre-Law, Biology and Chemistry.
Rogers served as the Student Body President for the 2018-19 year, after working with the Student Government the past three years. She is also involved in the Alpha Phi sorority and Order of Omega Greek Honor Society. A member of the Dance Marathon Team, she is devoted to raising funds and awareness for local children's hospitals.
With the goal of attending law school in the future, Rogers recently interned at the Domestic Violence Accountability Court where she attended trials and assisted victims. A strong proponent for mental health, she also founded the "I Have a Reason Mental Health Event" on the SIUE campus.
Over the summer, Rogers works full-time as a Spring Board Leader. The mandatory registration and orientation program helps freshmen jump into their university experience, with Rogers and her fellow leaders offering support and guidance.
Rogers enjoys running and reading, along with babysitting and waitressing. Her goal is to collaborate with her campus community to give back to the SIU system she loves.
Subhash Sharma
Dr. Subhash C. Sharma was appointed to the SIU Board of Trustees by Gov. J.B. Pritzker on March 22, 2019.
Dr. Sharma is professor emeritus of economics at Southern Illinois University Carbondale. During his 35-year teaching career, he served as the department's director of undergraduate studies, director of graduate studies and department chair.
Dr. Sharma chaired or co-chaired dissertations of 40 Ph.D. students and served on other 85 Ph.D. dissertation committees across campus, supervised 18 master's research papers and served on another 23 master's research paper committees.
An active researcher, Dr. Sharma is a Fellow of the Midwest Econometric Group, an executive editor of the Journal of Asian Economics, and an editorial board member of the Applied Economics Journal.
His research interests concentrate on economics, finance and statistics, and he has published 85 papers in these areas. Much of his research appeared in top journals such as the International Economic Review, Journal of Econometrics, Journal of Development Economics; Journal of Productive Analysis; Journal of Asian Economics; Journal of Banking and Finance; Journal of Money, Credit, and Banking; Journal of Multinational Financial Management; Australian Journal of Statistics; Communications in Statistics-Theory and Methods; and Communications in Statistics-Simulation and Computation.
During his tenure at SIU Carbondale, Dr. Sharma has been involved in civic service both at the local and state levels and co-authored multiple Economic Impact studies for the State of Illinois.
Dr. Sharma received his bachelor's (Honors) in mathematics and master's degree in mathematical- statistics from the University of Delhi and his Ph.D. in statistics from the University of Kentucky in 1983. He and his wife, Kusum, have two children and are proud residents of Carbondale for more than 35 years.
Amy Sholar
Amy Sholar, an Alton native and lifelong resident of Madison County, was appointed to the SIU Board of Trustees by Gov. Bruce Rauner on Feb. 27, 2015.  A licensed attorney with her office located in Alton, Sholar earned a bachelor of science degree in business administration from SIU Edwardsville. She earned her law degree from St. Louis University in 2001.
During law school, Sholar worked for the Madison County State's Attorney's Office. After earning her law degree, she worked for the City of Alton handling real estate acquisition, zoning matters and was actively involved in the Weed and Seed Program, a neighborhood revitalization movement.
Sholar opened her private practice in 2004, handling criminal defense and family litigation. She has served as Guardian Ad Litem in countless cases representing minor children who are either victims of abuse and neglect or the subject of custody trials.
Sholar is a member of the Board of Greater Alton Community Development Corporation and the Board of Governors for the Illinois Lincoln Series Excellence in Public Service. She has served as secretary and president of the Alton Wood-River Bar Association and is a member of the Madison County Bar Association and Illinois State Bar Association. She is a recipient of the 2012 Women of Distinction Award in her local community.
She has two college-age children, Sadie and Joseph.
John Simmons
John Simmons, an attorney from Alton, was appointed to the SIU Board of Trustees by Gov. J.B. Pritzker on March 22, 2019. He was originally appointed to the board in 2004 and served for more than nine years. During that time, he first served as the board's secretary and later as its chairman. He is a former member of both the SIUE Alumni Association and SIUE Foundation boards.
Simmons grew up in southern Illinois and earned a bachelor's degree in political science from SIUE in 1991. While an undergraduate, he served as president of the SIUE student body and was a member of the Dean's College, a program for honors students. He earned a law degree from Southern Methodist University after leaving SIUE. Before he began his college studies, he served in the U.S. Army as a combat engineer, earning an honorable discharge in 1988.
Simmons founded Simmons Hanly Conroy in 1999 with seven employees and a focus on asbestos litigation. Under his leadership, the firm expanded to a national litigation firm with more than 250 employees, including over 80 attorneys, spread between six offices in New York, Los Angeles, San Francisco, Chicago, St. Louis and Alton. Today, the firm represents clients from across the country in the practice areas of asbestos and mesothelioma, dangerous drugs and medical devices, prescription opioid litigation, sexual abuse litigation, environmental litigation and other mass torts and class actions.
Simmons started the firm because he believed he could provide a higher level of legal care to clients by combining legal expertise with service-minded values. Simmons's vision expanded when he and the firm made a joint $10.2 million donation to build the Simmons Cancer Institute on the campus of Southern Illinois University in Springfield. The cancer institute is the only one of its kind in downstate Illinois. Physicians there see more than 20,000 patient visits per year, and no matter the financial resources patients may have, they are never turned away from care.
Motivated by Simmons' core belief of giving back to the community, firm employees have donated more than $1 million to local charities and events through the Simmons Employee Foundation. Additionally, under his leadership, the firm has donated more than $20 million to cancer research nationwide and hundreds of thousands of dollars to local non-profits and organizations under his leadership.
Simmons hopes to give back to his alma mater during his term on the board, bringing a fresh perspective to issues and challenges public universities will face. Simmons and his wife, Jayne, have four children and one grandchild.