Southern Illinois University Carbondale

Carbondale, Illinois

From its humble beginnings as the state's second teachers college - founded in 1869 with a dozen academic departments and an inaugural class of 143 - Southern Illinois University Carbondale now ranks among Illinois' most comprehensive public universities.

Each year, we welcome students from all 50 states and more than 100 countries who take advantage of outstanding academic programs as they pursue associate, bachelor's, master's, doctoral and professional degrees in law and medicine.

SIU School of Medicine

Springfield, Illinois

The mission of the Southern Illinois University School of Medicine is to assist the people of central and southern Illinois in meeting their health care needs through education, patient care, research and service to the community. SIU School of Medicine physicians dedicate themselves to the science of health care and the education of a new generation. The School's health care practice, SIU HealthCare, serves more than 100,000 patients annually at various clinical sites like the Family and Community Medicine Clinics in Decatur and Quincy, Ill.

Simmons Cancer Institute at SIU

Springfield, Illinois

The Simmons Cancer Institute at SIU addresses cancer care needs through medical education, biomedical research, patient care and community service. With established cancer care teams in a variety of specializations, SCI patients receive a comprehensive treatment plan from a team of experts. SCI physicians conduct ongoing cancer research, and they provide clinical trials for patients to advance new treatments and cancer therapies.

SIU School of Law

Carbondale, Illinois

SIU School of Law prides itself on being a collaborative, tight-knit community that allows students to thrive. The only public law school in the region, SIU offers a tuition rate that is among the lowest in the country. Combined with the affordable cost of living in scenic Southern Illinois, our graduates have a debt load below the national law school average.

SIU Healthcare Decatur Family Medicine Clinic

Decatur, Illinois

The Decatur Family Medicine Clinic is a group of family physicians that are trained to care for the entire family. You will receive high quality, comprehensive medical care, 24 hours a day, seven days a week, whenever the need arises.

SIU Healthcare Quincy Family Medicine Clinic

Quincy, Illinois

The Quincy Family Medicine Clinic is designed to promote comprehensive continuous family care. The staff are trained to understand that the function of the family unit has a significant impact on health and illness.

Center for Workforce Development

Springfield, Illinois

The SIU Center for Workforce Development in has been implementing statewide education, leadership and technology advancement projects for over 20 years. Currently, CWD has a primary role with carrying out several projects for the State of Illinois.

Southern Illinois University Edwardsville

Edwardsville, Illinois

Southern Illinois University Edwardsville provides students with a high quality, affordable education that prepares them for successful careers and lives of purpose. Built on the foundation of a broad-based liberal education, and enhanced by hands-on research and real-world experiences, the academic preparation SIUE students receive equips them to thrive in the global marketplace and make their communities better places to live. Situated on 2,660 acres of woodland atop the bluffs overlooking the natural beauty of the Mississippi Rivers rich bottomland and only a short drive from downtown St. Louis, the SIUE campus is home to a diverse student body of nearly 14,000.

SIU School of Dental Medicine

Alton, Illinois

The SIU School of Dental Medicine provides access to the latest technology in today's oral health care field. Students play a part in helping some 8,000 patients a year receive excellent dental care through a state-of-the-art main clinic in Alton as well as a community clinic in East St. Louis. SIU School of Dental Medicine is the only dental school in the state of Illinois outside of the Chicago metropolitan area and the only dental school within 200 miles of the St. Louis metropolitan area.

SIUE School of Pharmacy

Edwardsville, Illinois

The SIUE School of Pharmacy offers a professional program leading to the doctor of pharmacy (PharmD) degree, a concurrent PharmD/MBA program, a concurrent PharmD/MS Healthcare Informatics program, and a master's degree in pharmaceutical sciences. By taking an experiential approach in each program, the School provides students with invaluable education in real-world settings.

East St. Louis Center

East St. Louis, Illinois

The SIUE East St. Louis Center is a vital community resource dedicated to empowering people and strengthening communities in East St. Louis and the Metro East urban areas through access to comprehensive and enriching programs and services in education, health care, social services and the arts. Educational services include Head Start/Early Head Start, a charter high school and Upward Bound college preparatory programs.
Lake County Center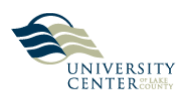 Grayslake, Illinois
SIUC and SIUE are participating universities at the University Center of Lake County in Grayslake.  They offer quality programs primarily in the fields of education, business, technology, healthcare, and engineering to those who work or reside in or near Lake County.  The University Center is comprised of 8 public and 10 private institutions providing bachelor completion, graduate, and advanced professional development programs at multiple sites.