Dr. Earleen Patterson, Assoc. Vice Chancellor for Student Opportunities, Equity, Diversity and Inclusion at SIU Edwardsville is presented the 2023 SIU System Lifetime Achievement Award. Joining in the presentation were SIU System VP for ADEI Dr. Sheila Caldwell, SIUE Chancellor James Minor, SIU System President Dan Mahony, Dr. Earleen Patterson, SIU Board of Trustees Chair Phil Gilbert. (Photo by Rusty Bailey, SIUC)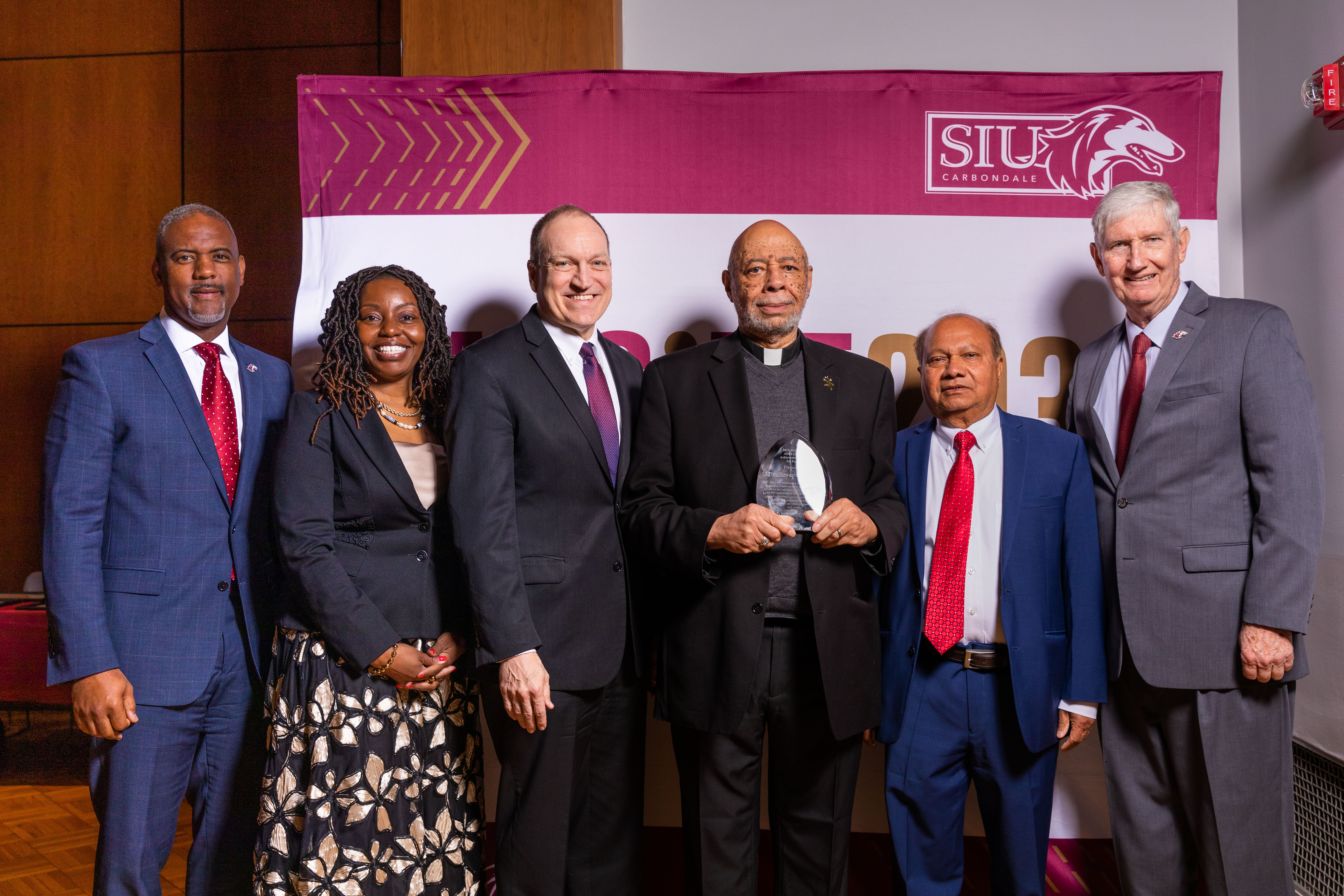 Father Joseph Brown, S.J., Ph.D., Professor at SIU Carbondale is presented the 2023 SIU System Lifetime Achievement Award. Joining in the presentation were SIUC Chancellor Austin Lane, SIU System VP for ADEI Dr. Sheila Caldwell, System President Dan Mahony, Father Joseph Brown, SIU Board of Trustees Secretary Dr. Subhash Sharma and SIU Board of Trustees Chair Phil Gilbert. (Photo by Rusty Bailey, SIUC)
May 5, 2023
SIU System honors two with ADEI Lifetime Achievement Award
Carbondale, IL – Dr. Earleen Patterson, Assoc. Vice Chancellor for Student Opportunities, Equity, Diversity and Inclusion at SIU Edwardsville and Father Joseph Brown, S.J., Ph.D., Professor at SIU Carbondale are the inaugural recipients of the Southern Illinois University System Anti-racism, Diversity, Equity and Inclusion Lifetime Achievement Award.
The awards were presented when the SIU Board of Trustees met recently in Carbondale. In addition to recognition during the board meeting, Dr. Patterson and Fr. Brown received a plaque and a $1,500.00 honorarium.
Dr. Sheila Caldwell, Vice President of Antiracism, Diversity, Equity and Inclusion efforts at the SIU System led the presentation on behalf of the board and President Dan Mahony.
"The Lifetime Achievement Award was a collaborative effort of the System Diversity Advisory Council to recognize longtime team members who have documented service promoting Anti-racism, Diversity, Equity and Inclusion on our campuses. Dr. Patterson and Fr. Brown have made a robust impact on students, faculty and staff and we are pleased to celebrate them for creating, sustaining and expanding ADEI with the goal of creating opportunities resulting in greater justice and belonging," said Dr. Caldwell.
While making the presentation to Dr. Patterson and Fr. Brown, Dr. Caldwell shared excerpts from the nominations submitted on each recipient's behalf:
Dr. Earleen Patterson is trusted and respected by her students. They recognize and value her commitment to their success. She has proven to be a powerful role model and an inspiration, especially for her female students. Her office is known as a place for caring and developing students who otherwise might not have succeeded in their journey at SIUE. It was noted that Dr. Patterson's staff reflect her values of student first and student self-empowerment. Her compassion and caring earned her the reputation of being someone whom students could turn to in time of adversity. 
Dr. Patterson's reputation has earned her many accolades, recognition and praise from staff and faculty and especially students. Her students describe her as phenomenal, inspirational, charismatic, and compassionate, many commenting they credit a lot of their success to "her mentorship and guidance."
Father Dr. Joseph Brown's contributions to SIU, to Southern Illinois and the world are numerous. In nominating him, one individual wrote when he first met Father Brown, "I observed his leadership in person and through broadcast fundraising, programs, and outreach events organized by WSIU:  Father Brown supported compassionate care of formerly incarcerated individuals in community conversations; he was a superb facilitator for Ties That Bind, a public Town Hall connecting Catholic, Jewish, Lutheran, and Muslim religious leaders, and the community."
Father Brown previously hosted a WSIU Southern Issues episode with Dick Gregory, provided commentary for SIU's Little Rock Three, and appeared with Paul Simon and Bruce Weber on Celebrate 2000. As an advisor to student organizations, Father Brown has created a sense of belonging. He has inspired people of all walks of life to respect each other and to imagine a more just future together.
The purpose of the ADEI Lifetime Achievement Award is to recognize staff and faculty members whose careers include generally twenty years or more of documented service and advocacy in antiracism, diversity, equity, and inclusion at SIU's campuses. Nominees should have made a meaningful impact on a robust number of students, staff, alumni, and/or faculty members. The Award celebrates individuals who create, sustain, and expand ADEI, resulting in greater justice and belonging for all members in our community.
"On behalf of everyone across the SIU System, we congratulate Dr. Patterson and Fr. Brown for their legacy of service and the example of their leadership. The differences they have made to so many, especially our students who have had the benefit of their mentorship, is immeasurable and represents the very best of what we want the SIU experience to be, especially given our strong commitment to ADEI," said SIU System President Dan Mahony.