Diversity Advisory Council Summary and Recommendations
Welcome to the website for the Southern Illinois University Diversity Advisory Council (DAC). The DAC is an ad hoc, collaborative group made up of diversity champions from each of SIU'S three campuses, who meet regularly to oversee and help execute the Diversity Initiatives established by the System's Board of Trustees.  Please explore our website for a more detailed look at these Initiatives and other work of the DAC.
Diversity Advisory Council Members
Dr. Sheila Caldwell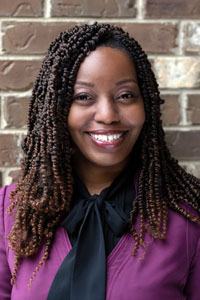 After a national search, Dr. Sheila Caldwell was chosen to serve as the inaugural Vice President for Antiracism, Diversity, Equity and Inclusion and Chief Diversity Officer for the Southern Illinois University System. Her appointment was approved at the university's Board of Trustees meeting in April 2021. In this role, which officially began in July 2021, Dr. Caldwell is responsible for coordinating all System diversity and equity programs, non-discrimination policies and equal opportunity compliance matters. Most importantly, she supervises initiatives leading the SIU System towards becoming an antiracist organization.

A Chicago native, Caldwell previously served as the inaugural Chief Intercultural Engagement Officer at Wheaton College where she worked to enhance equity, transform culture and improve institutional effectiveness related to diversity. As a collaborator with the college's senior cabinet, she led efforts to implement, for the first time, a diversity commitment statement, an inclusive hiring process, a gender equity vision statement, a diversity strategic plan as well as a bias policy and bias incident reporting system to improve campus climate.

With experiences in both industry and academia, Caldwell previously served as Advisor to the President on diversity at the University of North Georgia, as Director of Complete College Georgia and as the Dual Enrollment Coordinator for the Technical College System of Georgia. She holds a BS in Business Marketing from Northern Illinois University, an MA in Educational Leadership from Argosy University in Atlanta Georgia and EdD in Workforce Education from the University of Georgia. 
Dr. Nilanjana R. Bardhan
Dr. Nilanjana R. Bardhan is a professor and director of graduate studies in the Department of Communication Studies at Southern Illinois University Carbondale (SIUC). Her teaching interests include public relations and intercultural/international communication.
Bardhan has been recognized and awarded the Outstanding Faculty Teaching Award in the Communication Studies Department at SIUC three times. In 2019, she received the Women of Distinction Award from SIUC. This award recognizes employees for their sustained commitment to women and/or issues of diversity through demonstrated leadership, vision and action. At SIUC, she has been on the advisory board of the Global Media Research Center and serves on the Diversity Curriculum Committee/Diversity Council. She is currently a member of the National Communication Association (NCA) and the Public Relations Society of America (PRSA). She also serves on the board of the Plank Center for Leadership in Public Relations and co-chairs its Diversity and Inclusion Committee.
Bardhan is the co-editor of Public Relations in Global Cultural Contexts (Routledge) and Identity Research and Communication (Lexington Press), and the co-author of Cultivating Cosmopolitanism for Intercultural Communication (Routledge). She has published over 30 book chapters, and articles in leading peer reviewed journals. She received her B.A from Delhi University, and her M.S.J. and Ph.D. from the Scripps School of Journalism at Ohio University.
Christopher Behan
Professor Behan joined the faculty at the SIU School of Law in July of 2006. Prior to that, he was an officer in the United States Army Judge Advocate General's Corps for nearly eleven years. His final assignment was Associate Professor of Criminal Law at the Judge Advocate General's School in Charlottesville, Virginia. During his military career, he also served as a legal assistance attorney, military prosecutor, criminal defense attorney, administrative law attorney, international and operational law attorney, and legal advisor to U.S. forces in the Sinai Desert as part of the Multinational Force and Observers.
Professor Behan served as Acting Dean of the School of Law from September 2017 to July 2018. He also served as Associate Dean for Academic Affairs from July 2014 to October 2017.
Professor Behan earned an L.L.M. in Military Law (Criminal Law Specialty) from the Judge Advocate General's School in 2003 and was named to the Commandant's List. He received his J.D., magna cum laude, in 1995 from Brigham Young University's J. Reuben Clark Law School. He was a member of the Order of Barristers, the Director of Interschool Competitions on the Moot Court Board, and a member of the National Moot Court Team. He obtained his B.A., magna cum laude, from Brigham Young University in 1992, majoring in English.
Professor Behan's research and teaching interests include military justice, evidence, national security law, and trial advocacy pedagogy. In addition to teaching at SIU School of Law, Professor Behan teaches trial advocacy for the National Institute of Trial Advocacy, Justice Advocacy Africa, and law firms and government agencies throughout the United States. He has also served as a member of the faculty of the National Judicial College in Reno, Nevada, teaching advanced evidence courses to state court trial judges.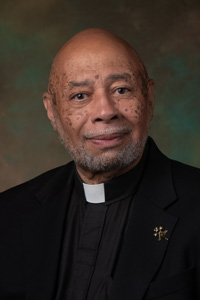 Joseph A. Brown, SJ; Ph. D.
Brown, SJ; Ph. D., a native of East  St. Louis, is a Professor in the Department of Africana Studies at Southern Illinois University Carbondale, where he has taught since 1997.  An ordained Roman Catholic priest, he has degrees from St. Louis University (BA); Johns Hopkins University (MA); and Yale University (MA, PhD). His teaching career includes time at Creighton University, the University of Virginia and Xavier University of New Orleans.
His research interests are in literature, religion, aesthetics and cultural history. Some of his writings include, A Retreat with Thea Bowman and Bede Abram: Leaning on the Lord; To Stand on the Rock: Meditations on Black Catholic Identity; Sweet, Sweet Spirit: Prayer Services in the Black Catholic Tradition (with the assistance of Bishop Fernand J. Cheri, III, OFM/2006); and The Sun Whispers, Wait: New and Collected Poems (2009).  Since 2014, he has served as the Chair of the East St. Louis 1917 Centennial Commission & Cultural Initiative.  He also publishes the blog, "The Sankofa Muse." http://sankofamuse.blogspot.com/

Venessa Brown
Dr. Brown is the Associate Chancellor for the Office of Institutional Diversity and Inclusion at Southern Illinois University Edwardsville (SIUE) and Chief Diversity Officer with a tenured faculty appointment as professor in the department of social work. She also served as Associate Provost in Academic Affairs and Executive Director of the SIUE East Saint Louis Center (ESLC).
Dr. Brown began her academic career in 1993 as an assistant professor of sociology and social work in the Department of Social Sciences at Greenville College (GC). Following in her commitment to accredited social work programs, Dr. Brown accepted a position at SIUE in 1995 as an assistant professor to start the Masters in Social Work (MSW) program. She was tenured and promoted in 2001, full professor in 2006 and department chair from 2006 – 2007. In this role, she contributed to the overall success of the BSW/MSW program being fully accredited.
Todd Bryson
Todd Bryson received his Master's degree in Recreation Management in 2008, and began his SIU professional career at the Student Recreation Center as the Assistant Director for Operations and Facilities.  In 2013, Todd became the Assistant Director in Housing. In 2016, Mr. Bryson became the Director of the Student Multicultural Resource Center and is currently serving in this role. In January of 2018, Todd was named the Interim Chancellor for Diversity SIUC.

Randolph Burnside
Randolph Burnside is an Associate Professor in the MPA Program at Southern Illinois University Carbondale. His research interests include race, ethnicity and diversity, human resources management, behavioral aspects of disasters and organizational leadership. His most recent work has been published in the Canadian Journal of Administrative Sciences, the Journal of Applied Social Science, and the Ralph Bunche Journal of Public Affairs.
Lakesha Butler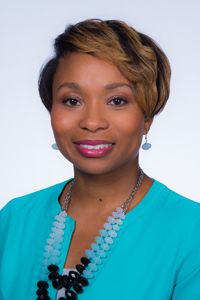 Dr. Lakesha Butler is a Clinical Associate Professor of Pharmacy Practice at Southern Illinois University Edwardsville and a Board Certified Pharmacotherapy Specialist. She earned a Doctor of Pharmacy degree from Mercer University College of Pharmacy in Atlanta, GA and completed a pharmacy practice residency at the University of Illinois-Chicago. Dr. Butler is a strong advocate for increasing cultural competency among healthcare professionals, improving diversity and inclusion in and outside the classroom and developing leaders. She serves as the inaugural coordinator of Diversity and Inclusion at the SIUE School of Pharmacy and coordinator of the SIUE Healthcare Diversity Summer Camp which exposes minority high school students to college life and careers in pharmacy, nursing and dental medicine. Dr. Butler is the national President-elect of the National Pharmaceutical Association, and has received numerous awards for her national and local service leadership in pharmacy.
Wendi Wills El-Amin
Wendi Wills El-Amin, M.D. is the Associate Dean for Equity, Diversity, and Inclusion at Southern Illinois University School of Medicine.  She is also a faculty member at the school as an associate professor of family medicine where she provides care at the Center for Family Medicine in Springfield. Dr. El-Amin is dually appointed to the SIU's Department of Medical Education and is an Academic Strategist.
She completed her residency in family practice and community medicine as chief resident at the University of Texas-Houston (2001). She earned her medical degree at Georgetown Medical School (1998) and a bachelor's degree in biology at Hampton University in Virginia (1993).
El-Amin is board certified in family medicine and is a member of the National Medical Association, where she chairs the Women's Health Section (2008 – present).
Marcus Evans
Marcus Evans joined SIUE athletics as Head Coach of the Cross Country and Track and Field programs in June 2020. He will oversee all aspects of the program and will be working to build to OVC and National prominence with a servant leadership philosophy. Evans comes from Lipscomb University where he was most recently the Associate Head Coach for Track and Field and an assistant coach for 9 nine years prior.
Evans received his Master's degree in Conflict Management from Lipscomb University in 2013. He uses his communication and mediation skills daily to resolve disputes that may arise with his teams. Evans is an alum and former student-athlete at SIUE, he competed during the last years of the Division II era, then through the transition to Division I. Evans graduated with a Bachelor of Arts in Mass Communication, he served as a team captain for Track and Field as well as Vice President of Student- Athlete Advisory Committee (SAAC).Evans holds a Rule 31 mediator certification from the state of Tennessee as well as numerous technical certifications from USTFCCCA (Track and Field coaches association).
Quentin Guillory
Quentin Guillory is a fourth-year medical student at Southern Illinois University School of Medicine. He is also a member of the Student National Medical Association and serves as the organization's medical student representative on the Student Progress Committee of the SIU School of Medicine.
Quentin received a Bachelor of Science in Biology from Xavier University of Louisiana in 2015. Before matriculating into medical school, he completed MEDPREP, a rigorous two-year post-baccalaureate program at SIU Carbondale.
He is also a proud member of Omega Psi Phi Fraternity, Inc. and is dedicated to its cardinal principles of manhood, scholarship, perseverance, and uplift.
Vivian Hardison
Vivian Hardison completed a Master of Science in Rehabilitation Counseling, as well as a Master of Science in Rehabilitation Administration at SIU Carbondale in 2016.
Vivian is also a Certified Rehabilitation Counselor (CRC). Vivian began her professional career as Testing Coordinator at Disability Support Services (DSS) in 2013. In 2018, Vivian became the Assistant Director of DSS.
Jessica Harris
Dr. Jessica C. Harris is Interim Assistant Provost for Inclusive Academic Excellence and an Associate Professor in the Department of Historical Studies at Southern Illinois University Edwardsville. In her role as Interim Assistant Provost, she supports the advancement of inclusive excellence across all units of Academic Affairs and is primarily responsible for the implementation, oversight and management of the University's initiatives for improving deeply engaged student learning, student retention, student success, and faculty development, with an emphasis on both professional and cultural education.
Harris holds a B.A. degree in History from Dillard University in New Orleans, Louisiana (2002) and a M.A. (2006) and a Ph.D. (2011) in History, both from Cornell University in Ithaca, New York.
Collin Hitt
Collin Hitt, Ph.D. has served on the faculty of SIU School of Medicine since 2016, where he is an Assistant Professor in the Department of Medical Education and Research Director of Learning and Innovation. Since 2018 he has served on the School of Medicine's admissions committee.
Professor Hitt is a 2002 graduate of SIU Carbondale, where he earned his B.A. in Philosophy and Political Science. In 2003 and 2004, he began his career in public policy as a research and teaching assistant at the Paul Simon Public Policy Institute at SIU.
In 2016, he earned his Ph.D. in Education Policy from the University of Arkansas, where he co-founded Charassein: The Character Assessment Initiative. His research variously covers education policy, medical education, character formation and other major topics.
His wife Mary Hitt is a nurse practitioner with SIU Medicine. They live in Springfield with their two young sons.
Over the course of his career, Professor Hitt has served on numerous boards, committees and task forces, including the Illinois State Board of Education. He currently serves on the boards of directors for the Looking for Lincoln Heritage Coalition and St. Patrick Catholic School.    
Dr. W. G. Robinson-McNeese

W.G. Robinson-McNeese, M.D. is a retired emergency physician who trained at the SIU School of Medicine (SOM), graduating in 1986.
A native of East St. Louis, IL, McNeese is certified through Healthcare Executive Diversity and Inclusion training by the Association of American Medical Colleges and Georgetown University, Washington, D.C.  He retired in 2017 as Associate Dean for Diversity and Inclusion at the SOM.
A member of Alpha Omega Alpha Honorary Medical Society, McNeese's undergraduate education was at Anderson University, IN, Illinois State University-Normal and Southern Illinois University, Carbondale. Following graduation from medical school he did residency training at McGaw Medical Center, Northwestern Medical School, Chicago, IL ('90).​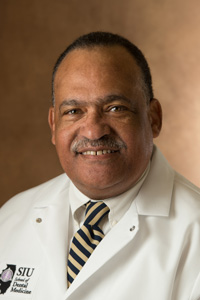 Cornell C. Thomas, DDS

Thomas, currently serves as the Assistant Dean for Admissions and Student Services at SIU School of Dental Medicine. He is a tenured, Associate Professor at the Dental School. He was born and raised in St. Louis, MO, graduating from Ritenour Senior High. He received his BA in biology from Millikin University, Decatur IL., and his DDS degree from UMKC School of Dentistry, Kansas City, MO.
Dr. Thomas has served as a staff dentist at St. Louis Comprehensive Neighborhood Health Center, becoming the Dental Director, but also maintaining a private practice for 42 years as President of Thomas Dental Office, P.C., St. Louis. He has served on a number of boards and associations addressing Oral Health Care Disparities and Access to Care.
Dr. Thomas has been involved in dental education since graduating from UMKC in 1978.  He is a student advocate, and has provided workshops nationally on recruitment, retention, and academic support pertaining to student success in the academic and professional environment.  He serves as a member of the Diversity and Inclusion Committee at SIUE and his passion is lowering barriers, not standards, for all to achieve.
Lindy M. Wagner
Lindy currently serves as director of the Center for Student Diversity and Inclusion at Southern Illinois University Edwardsville where she began in March of this year. Previous to being at SIUE she served in the Office of Associate Chancellor for Diversity at Southern Illinois University Carbondale and provided a variety of equity and inclusion training opportunities for faculty, staff, and students on campus. Lindy also served as an Assistant Director of Residence Life at SIUC from 2010-2015 and a full-time graduate teaching assistant from 2017-2019. In addition to working within the SIU system, she also facilitates workshops across the country as an Associate for the Sustained Dialogue Institute. Through facilitation she aids colleges and universities with moderating dialogue; understanding and implementing inclusive leadership; diversity, equity, and inclusion initiatives; and conflict resolution. She first became involved with dialogue initiatives while employed at Syracuse University in 2005 when she was a facilitator for Conversations about Race and Ethnicity (C.A.R.E.) Dialogue Circles. She continued her love for dialogue at Appalachian State University where she served as the Associate Director for Intercultural Student Affairs. While at Appalachian State, she provided training and development opportunities on a variety of topics for faculty, staff, and students. Lindy has served in various roles in student affairs for the last seventeen years and brings that experience to her current position. She has a Bachelor of Arts degree in International Studies from Graceland University, a Master of Science degree in Counseling and Student Development from Kansas State University, and is currently working on a doctoral degree in Communication Studies with a focus on Intercultural Communication at Southern Illinois University Carbondale.
Prince Wells
Prince Wells joined the SIUE faculty in 1989, was appointed Assistant Professor in 1996, and tenured and promoted to Associate Professor in 2002. Mr. Wells has served as Director of the Music Business Program, he also teaches freshman Music Theory and Introduction to Music History and Literature.
Wells received his baccalaureate degree in Music Education from SIUE and completed his master's degree in Afro-American Music and Trumpet at the New England Conservatory of Music. He also studied trumpet with noted instructor Carmine Caruso, as well as Gary Smith of the St. Louis Symphony.
Under the tutelage of the internationally known composer and theorist George Russell, Wells earned certification in the Lydian Chromatic Concept of Tonal Organization, and currently holds the distinction of being one of only three persons in the United States with that certification.
Lesley Barfield
Anthony Cheeseboro
Timothy Stapes
Diversity Advisory Council Summary and Recommendations
The Diversity Advisory Council (DAC) will serve as the system's anti-racism task force and review and advise the President of the Southern Illinois University System on potential initiatives for the system and plans developed by the campus task forces. The respective campus task forces will regularly report to the DAC on their plans.
The DAC recommends required anti-bias/anti-racism training for employees and an organizational analysis. The different campuses have used different trainings. The President will appoint a sub-committee to explore options for training and for doing an organizational analysis. It is possible that these items might come from the same organization or from separate ones.
The DAC recommends a review of our police policies on each campus and an examination of their consistency with those developed at a state or national level, including those developed by Illinois Association of Chiefs of Police in collaboration with the NAACP Illinois State Conference.
The DAC recommends each campus do a thorough exploration of the curriculum to ensure that anti-bias/anti-racism education is threaded through the curriculum. Further, the DAC recommends the campuses develop means for accessing the success of our efforts (e.g., efficient means for reporting concerns, questions regarding teaching to a diverse group).
The DAC recommends a specific focus be placed on preparing graduate students who will be future faculty to be instructors with an understanding of multicultural, diversity and anti-racist education.
The DAC recommends a comprehensive review of our policies and procedures at both the system and campus level to eliminate any aspects of those policies and procedures that support systemic racism. The President will form a sub-committee to review the system's policies and procedures.
The DAC recommends the development of benchmarks at both the system and campus levels to monitor our progress. These benchmarks should be included in the benchmarks emerging from any strategic plan. The President will form a sub-committee to begin developing those benchmarks.
The DAC recommends developing a pledge against racial injustice, or statement of understanding of the university's position on anti-racism, that would be signed by new employees and others working with the university. The President will work with legal counsel to explore the implementation of this recommendation and will form a sub-committee to explore similar pledges inside or outside of higher education.
The DAC recommends a number of strategies to increase scholarship support for marginalized and disadvantaged students. This include fundraising for scholarships for students with a passion for social justice, working with outside groups and foundations that provide support to students of color, developing scholarships for specific programs like MEDPREP, and examining current scholarship distribution programs for inequities and making changes where needed.
The DAC recommends examining opportunities for naming of buildings, schools, etc. for people of color. This should include a review of the current naming policies and the process used in the past for naming. In addition, the DAC recommends examination of the processes used for determining and selecting winners of alumni and student awards for potential inequities.
In addition to examining the current policies and procedures related to the recruitment of students at all levels, as well as faculty and staff, the DAC recommends developing relationships with other higher education institutions that would help to facilitate the recruitment of more diverse students, faculty, and staff.
The President will work with the DAC on the implementing recommendations that can be done at a system level. The President will work the Chancellors and the Dean of the School of Medicine on developing plans for implementing each of the recommendations that need to be addressed by the campus anti-racism task forces.